Download Managers for Windows PC: Downloading anything from the internet is as much important as using the internet. The downloading speed of any file makes a big difference in the user experience, which you might have experienced at some point. Imagine you downloading something over the internet and that is consuming like dozens of minutes to get into your PC! How frustrating would that be! Hence, it is crucial to have the best Download Managers for Windows PC.
Yes, you guessed that right. Today's article is going to be all about the best Download Managers for Windows PC. In this article, we have shared with you the 7 best Download Managers for PC that will help you download any files from the internet within seconds.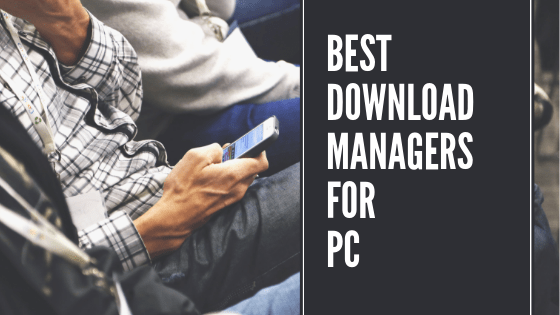 Why do we need Download Managers for PC?
Many of you might have been confused for why do we need Download Manager for PC. The answer is simple. Although all browsers have their own integrated Download Manager to help users download the files from their browser quickly, they are not as much efficient in doing their job as they should be.
With the fastest Internet connectivities, people expect browsers to have faster downloads. But this does not happen. These browsers have basic Download Managers that do not turn out to be much effective.
And hence, it is important to have a good Download Managers to download files on your PC through the net. But why good when you can have the best? In this article, we are sharing with you the 7 best Download Managers for PC of which you can choose the best for you.
Best Download Managers for PC
Note that the managers mentioned below are some of the best Download Managers for PC according to us. Of which, some are free and others are paid. It totally depends on your preference which app would be best for you.
1.  Internet Download Manager (IDM)
Who doesn't know Internet Download Manager? Being the most popular and used download Manager, IDM has proved to be the best in its field. Although it comes for a price after a free trial of 30 days, the price you pay for it negligible for the job it does.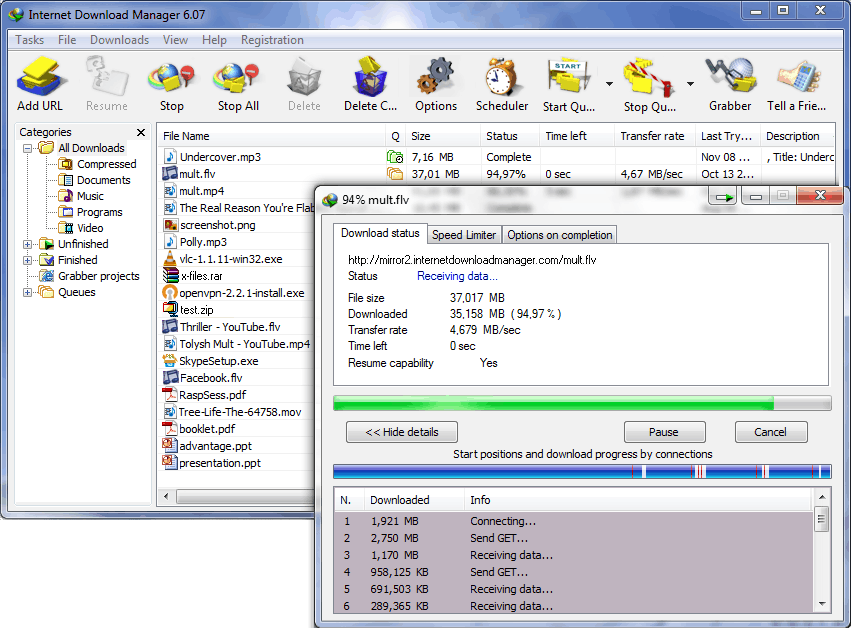 You get the option of Pause and Resume while downloading any file. This serves convenience while you are busy with some other stuff or are not sure about downloading the file at that moment.
This software comes with a price after trying it for 30 days. So you can make a trial and then choose whether you want this software or not. But trust me, you will pay whatever amount asked once you get to know how seamlessly this download manager works. You can also download torrent files using IDM
2. Download Ninja
Download Ninja, as the name says, is a Ninja in downloading files from the internet. This is basically an extension of Google Chrome. As it is a Google Chrome extension, it will be helpful for those who use Google Chrome Browser on their PC.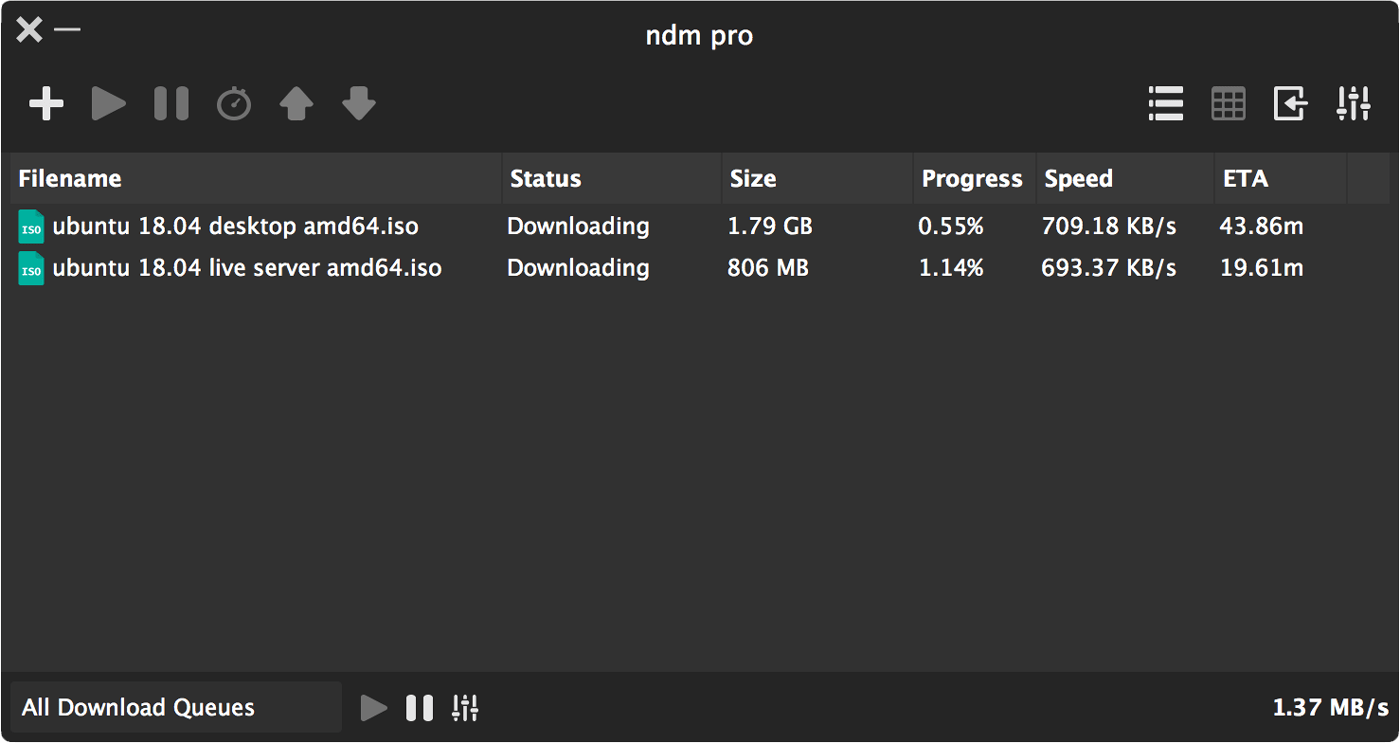 When you start using Download Ninja, which is a download manager extension for Chrome, the default Chrome Download Manager shuts. If you are not into installing Standalone Download Manager, then this is the best option for you.
Do not take Download Ninja for granted for being a Google Chrome Extension. This extension has got to offer you a number of features, various themes, multiple languages compatibility and a lot more than you will come across when you actually use this extension cum Download Manager.
3. Microsoft Download Manager
Microsoft Download Manager is one simple-to-use tool for downloading files from the internet. This manager, as the name suggests, is made by Microsoft and is the smallest Download manager out there.

You can download this for all the versions of Windows PC. The file size of Microsoft Download manager is only 2 MB, which I don't think would be any problem in case of storage. But as compared to the storage, the job it does is noteworthy.
You will find all the basic features required for a download manager to work in this software. And what else is even needed? To download this software, you can go to their Official website.
4. FlashGet Download Manager
A free download manager is what everybody prioritizes. Let us be honest, what comes for free attracts us the most. FlashGet is one such thing. This lightweight downloader enables you to download files along with options like Pause or resume similar to IDM.
Even newbies can take control of this download manager as the User Interface of this software is much simpler than many other managers. Along with its free nature, another great feature you get is the ability to customize themes as per your choice.
The FlashGet Download Manager is one such manager that allows and supports different file transfer protocols thus aiding you in downloading files from any of the server or site you want.
5. Orbit Downloader
Another useful and effective download manager for PC is the Orbit Downloader. This downloader helps you in downloading stuff even from third-party video and audio streaming sites and apps like Spotify, Pandora, Netflix, etc.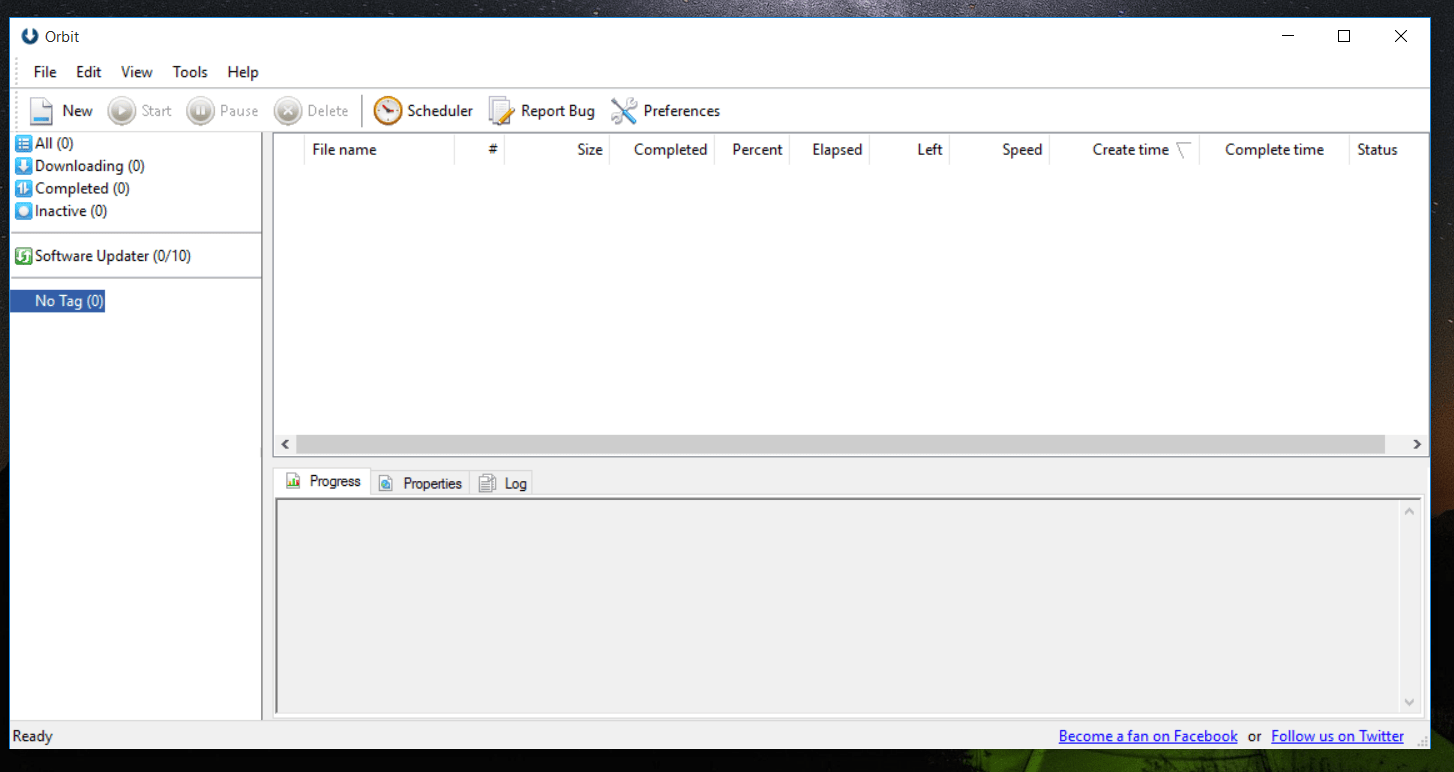 This downloader provides you compatibility with almost every file format from HTTP, MMS, FTP to RTSP and many more. In case you are a person that depends mostly on third-party sites and apps then Orbit downloader is what you should definitely have as it neutralizes the speed throttling of such third-party sites.
The best part about this software is that it is free to use. Hence you do not have to worry about anything but use this downloader as much as you want. Downloading speed of your browser will be enhanced by the use of Orbit Downloader.
6. JDownloader
Being a free download manager, JDownloader is an open source software. It stands one among the best free download managers for Windows PC. Similar to Internet Download Manager, you can pause or resume the download of any file.
One of the major features of this downloader is that you can also download files from sites that have blocked your original IP Address. The mechanism reasonable for this is that the software changes your IP Address when you start downloading such service that has blocked your original IP.
Hence, it is useful for downloading files that are banned on your location or country. Another noticeable feature of the app is that you can also customize the themes of this manager and all of this for free of cost!
Also see:- Best 10 Game Hacker Apps for Android
7. EagleGet
Last but not least is the EagleGet Download Manager. This manager designed for Windows PC and Laptops is one with some really amusing features but stays unnoticed. A really lightweight download manager with user Interface that can easily be customized, EagleGet is what you should definitely get.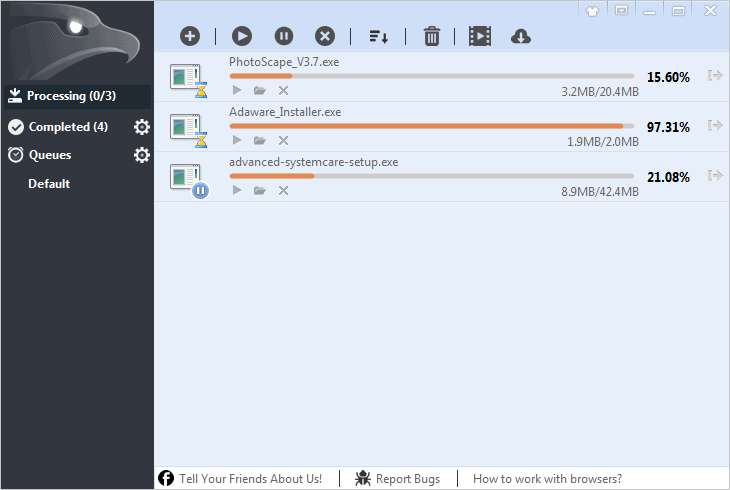 However, we will uncover some of its features for you in this article. EagleGet Download manager provides you with the option to accelerate the download process. You can thereby download the bigger files quickly.
This app provides you one of the simplest User Interface and it comes with themes that can be customized. What else could you expect from a Download Manager? This you can- Browser Integration and Batch Download are some other amazing features this app has got for you.
Read More: Best WiFi Hacking Apps for Android
Final Verdict:-
These were the best download managers for PC we could gather for you. In my opinion, Internet Download Manager and Download Ninja (if you use Google Chrome) are the best options to go for. However, you can also try and compare other download managers given above.
If you are looking for more options in features then surely EagleGet should be the download manager for you. As I already mentioned the above is the best Download Managers for PC, so no matter what you choose, it will be best from the rest.
I hope this article helped you in finding the best download managers for PC. In case of any doubts or suggestions, feel free to let us know below. We will be glad to hear from you.
Visit our page-Android Jungles frequently for more articles on best apps for your use or you can also subscribe to our newsletter and receive timely notifications of our posts.
Happy Androiding:-)