If you are looking for a way to customize your MediTek supported android device, then you have arrived at the right place. Here is a guide on How to Install TWRP on MediaTek using SP Flash Tool. 
MediaTek is one of the most popular chipsets that support a lot of amazing smartphones out there. Many Xiaomi users will see this chipset on their devices.
And if you are an advanced Android user, you will know that now customization has become quite easier on MediaTek devices. Consequently, you also get n number of options to tweak and customize your device.
And hence, installing a custom recovery would be your first step to customization of the MediaTek supported device. Although you will get the official Stock Recovery from the OEM, the later will limit the gamut of customization.
If you wish to access the advanced level operations of your device, installing a custom recovery is a must. Now talking of Custom Recoveries, we have different options like – CWM Recovery, OrangeFox recovery, and TWRP Recovery. 
Of these, you can choose any but we will be going with the most popular one, TWRP Recovery. If you are still skeptical about why TWRP, then let me mention the reasons for you.
One, popularly used. Two, features like Flash IMG and ZIP files, take NANDroid Backup,  mount external devices, and so on. On the other hand, with your stock recovery, you might have to face issues like device format.
Another one of the crucial reasons to choose TWRP is its ability to flash Magisk Installer ZIP which will help you root your device and thus take the admin in charge of your device.
Now assuming that you might have got the clarity you needed, here is a detailed guide on how to install TWRP on Mediatek with SP Flash Tool. 
Disclaimer
www.androidjungles.com will not be responsible for any (if any) harm caused to your device or its warranty in anyways after following the below process. This guide is for knowledge purposes only. Kindly perform at your own peril. 
How to Install TWRP on MediaTek using SP Flash Tool
Before diving right into the guide, firstly make sure to follow the below requirements for a smoother procedure. Note that all of these are mandatory.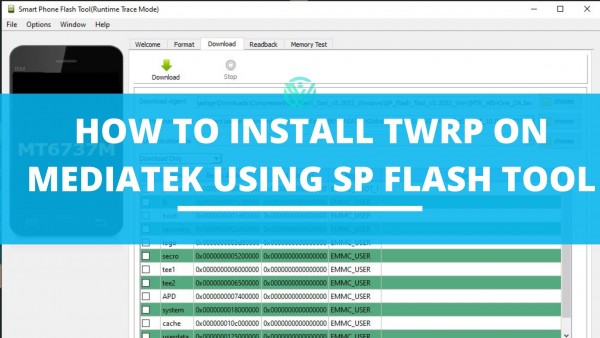 Prerequisites
Unlock Bootloader on your android device. Note that, this will wipe all your device data and hence you must take a backup beforehand. Also, this could void the warranty of your device. But if you are good with it then you can proceed ahead without thinking much.
Here we have mentioned two easy guides for the same purpose. you can go for any one of the below according to your convenience.
Unlock Bootloader Using Fastboot on Android
Unlock Bootloader Without PC on Android
Install TWRP on MediaTek using SP Flash Tool
Step 1. Download and Extract MTK Stock firmware.
Starting with, we will have to download the Stock firmware of your device for the same firmware version, your device is currently running on. For this, you can go to Settings > About Phone and check the current Build Number of your device.
Now you will mostly find the Stock Firmware on the official website of your OEM. However, if your firmware does not have it listed, then you can download it from other reliable sources.
Step 2. Download TWRP Recovery for MediaTek Devices
Next is to download TWRP Recovery for MediaTek devices by going to the Official TWRP Recovery Website. 
After downloading TWRP Recovery for MediaTek Devices, rename the file to recovery which will change the name of the file to recovery. img.
Move this file to the folder where you saved the Stock Firmware file. here, you will be asked if you want to replace the existing file. Click on Yes or ok.
That's it. You have replaced the stock firmware file with TWRP Recovery.
Step 3. Connect MediaTek Devices to PC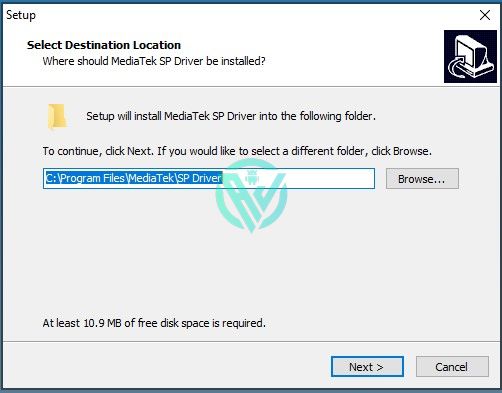 This can be done in 3 different ways. Choose the method that suits you the most –
Method 1. 
Switch off your device.
Connect it to the PC using a USB cable and press the Volume Down button once.
Method 2. 
Firstly, switch off your device.
Connect one end of the USB cable to your device.
Then press and hold the Volume Up and Volume Down button together and while pressing both these buttons, connect your device to the other end of the USB cable.
Method 3. 
Switch off your device.
Connect it to the PC using a USB cable and press the Volume Down button once.
Step 4. Install TWRP using SP Flash Tool
Now comes the most important part. But first, make sure that you have followed each and every step mentioned above so as to avoid any further issues.
Open SP Flash Tool. You can do so by clicking on the flash_tool.exe file.
Click on Choose option present next to the Scatter-loading file and go to the folder where you had saved the Firmware.
Here, you will find the scatter.txt file. Click on it to open it.
This will load the firmware in the SP Flash tool.
All you have to do now is uncheck all partitions except the Recovery section.
And click on the Download option.
The flashing will now begin. After the process is finished, you will receive a message on the screen. You can then remove your device from the PC and boot into OS.
Thats it. You have successfully Installed TWRP on MediaTek via SP Flash Tool!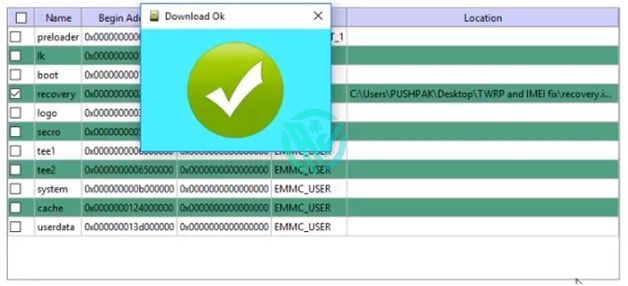 If you wish to give the admin level control of your device and make any and all customizations to it that you want then this is the best and only option for you.
Concluding Words
That was how easy it was to Install TWRP on MediaTek using SP Flash Tool. I hope you have all found the article of use.
If there are any queries or questions from your end, do not hesitate to ask us in the comment section below. We will come to your rescue.
Happy Androiding:-)