Turn Off Safe Mode on Android: Android is one of the most powerful and customizable mobile operating systems out there. The typical functioning of an Android smartphone can be meddled by any malfunctioning applications or files. I mean, if you are an Android power user who downloads a field of applications from a browser, like the mod APK's and etc, then you will encounter such issues oftentimes.
Also, read – How To Double Space In Word? MAC, Windows, Android, iOS.
In such situations, you cannot really control your device as the malfunctioning application will strikingly pop-up that it stopped working or something like that. This sometimes might also occur with applications like Google Play Services and etc.
Must checkout –What Does Grey Arrow Mean On Snapchat? 8 Arrow Explained.
If you face any such issues, you will obviously end up in Safe Mode to rectify the issue as a lot of guides online will suggest you how to enter Safe Mode to rectify the issue. But what they will not tell you is how to Turn Off Safe Mode on Android, now that is where we come in. In this post, we will guide you through the process of how you can exit the safe mode on any Android device.
What is Safe Mode?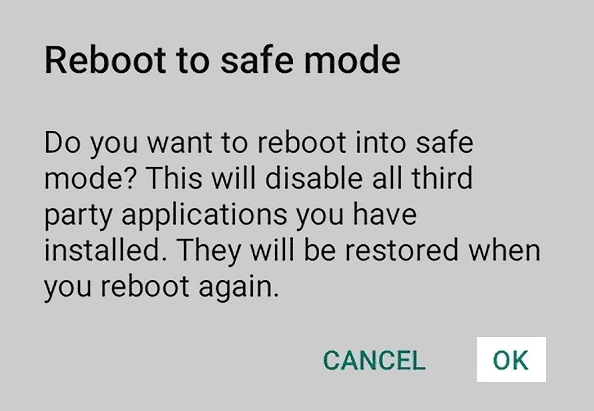 Safe Mode is the troubleshooting mechanism present in Android smartphones. This feature is made available to fix any certain application that has malfunctioned and is crashing your device. There comes a time for every Android user where they install a third party application and due to the compatibility issues or bugs, it continuously crashes and will end up your device unusable.
Now, in such situations, Safe Mode comes into the action as all the third-party applications are disabled on the safe mode. Meaning, you can easily access the applications and delete the application which is causing the issues. Once done, you can boot into normal mode. Well, that is the reason you are here! Without any further introduction, let us quickly get started with how to turn off safe mode on Android. 
Method 1: Restart your device to Turn off Safe Mode on Android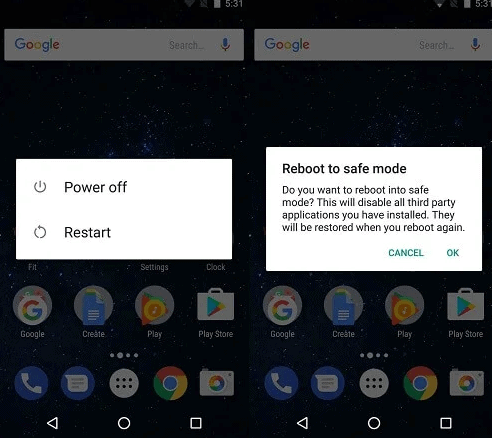 This is the easiest and straight-up process of how you can turn off safe mode on Android.
It is well known that by default, any Android device restarts in normal mode.
So, firstly, press, and hold the power key. This makes the power menu pop-up.
Once you see the power menu, you can simply tap on the reboot icon.
That is it, you have successfully turned off safe mode on Android.
Method 2: Turn off Safe Mode on Android from the Notification Panel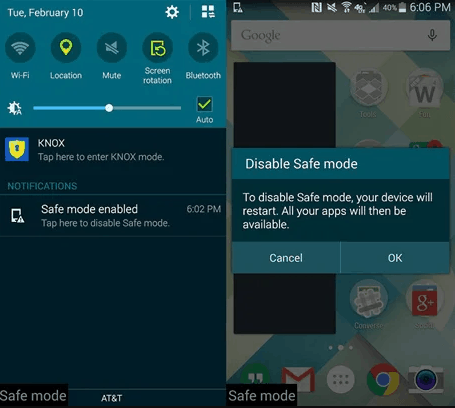 This is not the case with all Android devices.
A few devices which run Samsung Experience UI or TouchWiz and older versions of LG UX have this feature.
You need not do anything but opening the notification drawer and clicking on the notification.
Once it shows the prompt, tap on OK and that's all.
Method 3: Turn off Safe Mode on Android using Hardware keys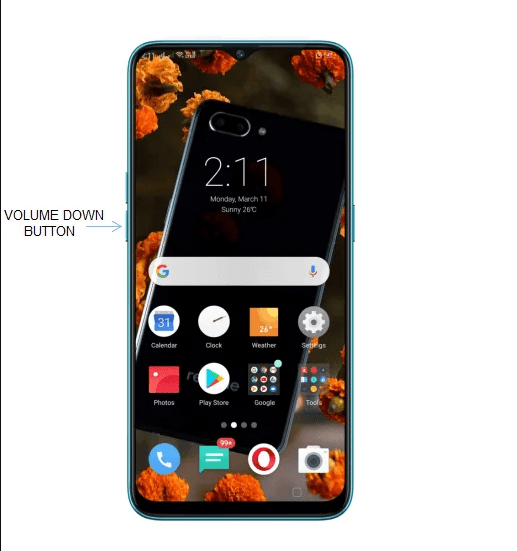 If method 1 did not work for you, you can try this method as a few OEMs make exiting the Safe Mode a bit tricky than usual.
For starters, you can turn off your device.
Now, press and hold the power key to turn on your device, and while it is booting press the volume down key. Your device will now boot into normal mode.
This doesn't work with all the devices as most of the devices enter bootloader or recovery when pressed volume down during boot.
Conclusion
If this post helped you Turn Off Safe Mode on Android, show us some love by sharing this article with your friends and family to whom this post can be useful. Now that you have done that, it is time for me to bid you adieu. For more posts like this, stay tuned with us! Until next time, Stay Techy!