The Desktop Windows Manager is a service from Windows that renders the visual effects on desktop and also the 3-D window transition animations, glass window frames, high-resolution support, etc. It is also known as dwm.exe.
This Windows service is responsible for inter alia, managing, visual effects on the desktop. Just like any other service, this one too requires some resources to work.
The mechanism on how the DWM works is by using Hardware Acceleration for creating smooth animations and visual effects.
It basically writes every picture on the Windows so to a place it in the memory and then create a combined view of them all on the screen and transfers it to the display.
A few things about DWM are here. It is present as a file named dwm.exe on your system and is of 50 -100 MBs in size. It makes up 2-3% of your system and if there are a lot of processes going on
Now since this service forms a major part of the Windows OS, it surely consumes resources as well as encounters some issues.
One such issue is Desktop Windows Manager consumes high CPU or memory. But nothing to worry about anymore as we have mentioned a few methods you can use to fix the issue. So here we go-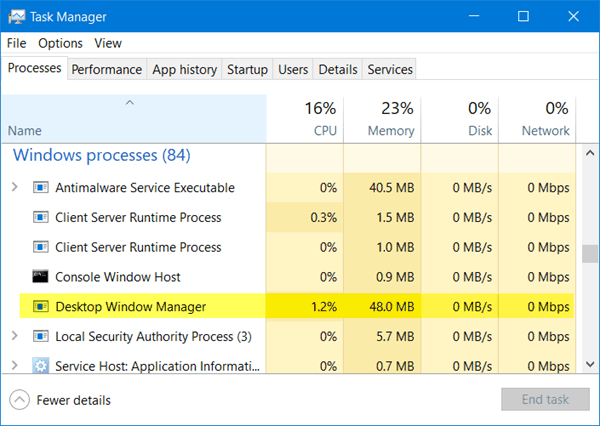 Desktop Window Manager dwm.exe consumes high CPU or Memory
Given below are a few tips that one could use to deal with the Desktop Windows manager consumes high CPU or memory issue.
Try Optimizing Windows for better performance. With this method, users can adjust the settings for improving the Operating system speed as well as performance. You can do so by running the Performance Troubleshooter. Then Open an Elevated Command Prompt and enter the below command-
msdt.exe /id PerformanceDiagnostic
At times, the Desktop Manager may be the culprit. In case the DM is consuming high resources, it is better to change your desktop wallpaper and/or theme. In case there is a screensaver that you have activated, try disabling it. And if nothing fruitful happens here, try altering all the Personalization Settings including Color Profiles, Lock Screen, etc.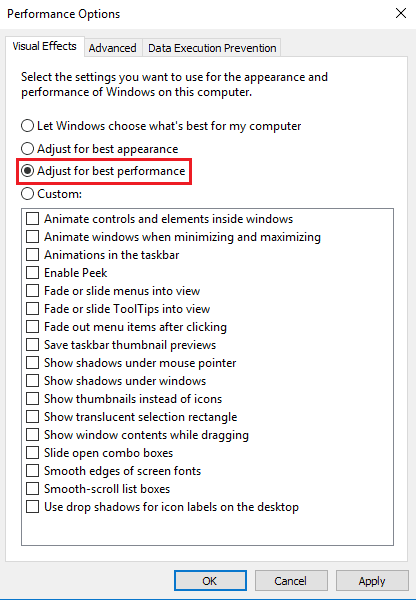 You can also try to switch to a basic theme that helps reduce the system load as well as helps the battery. But this will not stop Desktop Window Manager. However, it will be great if this short trick works.
Some software programs when installed, trigger the Desktop Window Manager to use more resources and hence cause load on the system and may lead to its freezing. This can, however, be solved by having the latest versions of software as well as Windows.
One can find the dwm.exe i.e. Download Window Manager file in the System32 folder on the PC. However, the presence of this file in any other folder could be an indicator that the file is malware. At such times, it is recommended to have a complete scan of your Windows system with the help of Antivirus Software.
Clean Boot your Windows System through which you can find the process resulting in the slow performance of DWM.
Using the latest Display Drivers on your PC is essential since there are also cases where people have reported that updating Display Drivers has helped them.
Read More: Fix: Windows Defender is turned off by Group Policy (Solved)
Disable Desktop Window Manager
When you try to turn off the DWM, there is no major change that happens. However, you can wish to disable it. Here is how –
If you are a Windows 7 or Vista user, enter 'service.msc' in the Start Search and then hit enter to open the Services Manager.
Then find out the Desktop Window Manager Session Manager service and then alter the Startup type of this service to Disabled.
Read More: FIX: VirtualBox Failed to open session for Virtual Machine (Solved)
That was it. I hope the procedures were useful enough. In case of doubts, feel free to ask us.
Thank you for visiting:-)