No doubt Samsung Smartphones are why so popular because of their hardware features and the TouchWiz Home. With the Nougat Update, the ROM of Samsung devices has been renamed as Samsung Experiences (SE). For the TouchWiz Home, Samsung offers its Software Development Toolkit to developers to create Themes, icons, apps, and so on. As a result of which there are umpteenth themes available for Samsung devices.
Samsung has released the official One User Interface firmware for its devices – Galaxy S8, S8 Plus, Note 8, Galaxy S9, S9 Plus, Note 9 which are Android pie 9.0 based devices. The One UI SE 9.0 firmware comes with a Theme engine and has night mode too. Thus, through SDK, there have been created a vast number of themes by One UI for Samsung Galaxy devices. Here are a few Best Free Samsung Themes for 2019 for Android 9 pie or 8.0 oreo that you would want to see-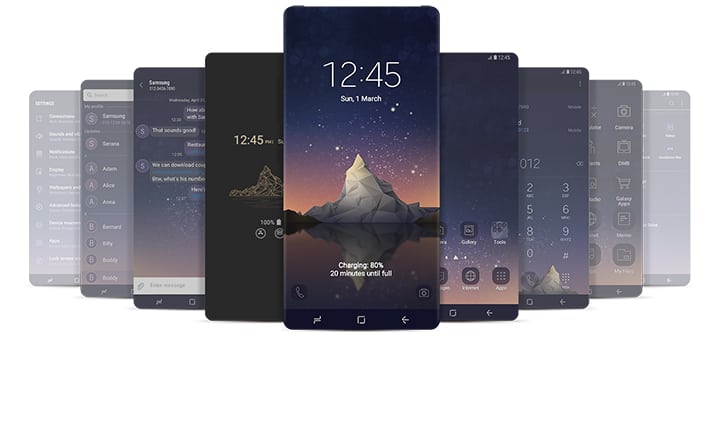 Oreo and Oreo Dark Samsung Theme
The first on our list of Best Free Samsung Themes for 2019 for Android 9 pie or 8.0 oreo is the Oreo and Oreo Dark or Oreo_Black. These are very popular themes developed by the more popular MINU Themer.
This simple theme does not contain any colored icons or badges but has a plain greyish kind of tone to it. The monochromatic badges and icons make this theme, less radiant and out of the box.
But if you are a person who is into colors then there's an alternative to Oreo and Oreo Dark theme- the Android Oreo theme by Filipe Leite. If you are not into such monochromatic or AOSP Oreo UX then nothing to worry about yet as there are several options as below-
Lemon
One of the most beautiful yet decent themes is Lemon. This theme is from Aire Design – developer for themes like Lonely, Sea Cliff Bridge, Dreamy, and others. As one can guess by the name, the color of this theme is somewhat Lemon and actually has a dual-tone.
The theme is available in the Samsung Theme Store and comes in a 2.2 MB size. If you are looking for a decent and fresh theme, then Lemon is what you should go for.
The White
Another great theme developed by the very famous MINU is the White. If you are looking for a more simple yet classic theme with pearly white as the main tone and black tint to it then The White is the theme you have to get for yourselves.
You can try other themes by MINU  like Dark Mint. You can give this theme a try. The icon designs here are peculiar.
If you find this White theme with a black accent a little boring then you can try its alternative- White Cat Theme by FUNI. Instead of black, this theme consists of a bit of pink color to it in the badges and icons.
Black Onix
Another one on our list is the Black Onix which is pretty inspired by the movie- Tron. A complete black interface with lightning borders and badges, icons, settings, messaging app, contacts. etc.
Pixelize or PixelizeD Samsung Theme
The Pixelize theme is not similar to the Oreo and Oreo Dark that we mentioned earlier. As you might have guessed by the name, this theme gives users the Latest Google Pixel Interface.
If you are allured by Google's latest UI then this is the theme you must have. The difference between the two- Pixelize is white whereas PixelizeD is dark, the D here stands for Dark.
Using the icons, launchers, badges of this theme, you can have to yourself an absolute experience like Pixel on your device. Both the themes have been developed by the theme- Cameron Bunch.
High Contrast Theme II
If you are into black interface and color then you must try this dark theme. By the name, I am sure you might have got the idea for this theme. The complete interface comes in black color and the icons, badges, text is in contrast.
However, there is not as much contrast in the two colors as the name says. The colors anyway look cute. You can see it through the screenshot below. If you did not like this, you can try the High Contrast Theme I.
Other Best Free Samsung Themes at Galaxy Store
EiD- Brown
Space V1 by THENEW
AmyOS
Sandbeach by Maihe
Canvas by 'Pabodi Upekshala'
Dark Mint by MINU
White Cat Theme by FUNI
Sparkling by WoOS_Design
Lonely
Sea Cliff bridge
High Contrast Theme I.
Dreamy
Wrapping Up
That was it for the best free Samsung Themes for 2019 for Android 9 Pie or 8.0 Oreo. Although you can also make use of Nova Launcher for customizing your Android device, the themes here are ready-made and you can easily get going with these.
You can also go for the combination use of Nova Launcher and Samsung Themes. I assume the article was useful to you. In case of any doubts or queries, feel free to let us know in the comment box below. We will be glad to help you out.
Do visit our page-Android Jungles for more such tech-oriented information or you can also subscribe to our newsletter and receive timely notifications of our posts.
Happy Androiding:-)