We all know how crucial an internet connection is to run the high technological devices of today's world. The best software in this area is Connectify that turns your PC into a WiFi hotspot. Great, isn't it? However, lately, Connectify seems to have become more complex and costly. It is because of all the amazing features that it has added, the price of the software, as well as the complexity, has grown over time.
Above it all, the major setback of using Connectify is that the two paid plans with a slightly different set of features are priced above $30. Growing prices and complexity have made users look for other affordable options. Hence we have brought for you all the best free alternatives of Connectify. 
1. OSToto WiFi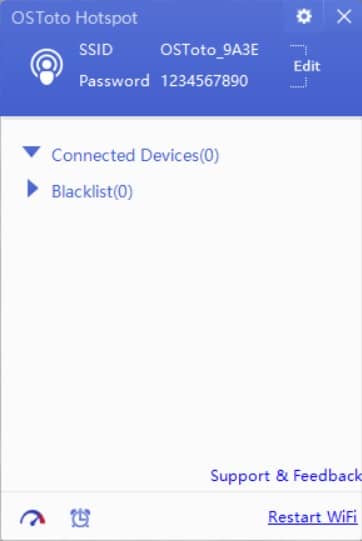 The first best HotSpot App which is a great alternative to Connectify is OSToto WiFi. This virtual router software was earlier named 160-WiFi. Nobody knows what's with the weird names but one thing we know for sure is that OSTotot is a great substitute for Connectify.
The interface is simple, you can share the internet as well as files, it lets you block particular users, it comes for free! In my opinion, this is all one would expect from a WiFi Hotspot creator. But could there be more than this that a WiFi Hotspot creator can do? Scroll to know!
2. Virtual Router Plus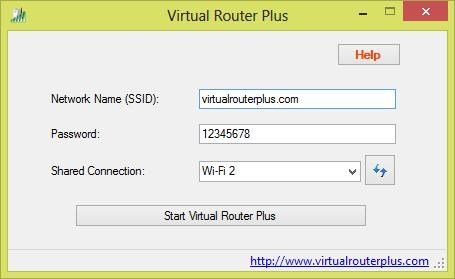 Another free alternative to Connectify would be the Virtual Router Plus. This Open-source project lets you convert your PC into a wireless hotspot. This software is compatible with Windows 7, 8, 8.1, 10, etc. and Server 2008 R2 and Server 2012 and both the editions – 32-bit and 64-bit.
3. Baidu Hotspots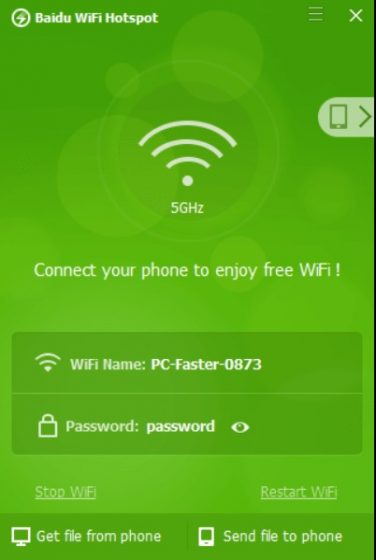 Of the few from my personal favorite list is the Baidu WiFi Hotspot. With Connectify, one is sure to find the interface quite complex. However, when you use Baidu, you will realize its easy to access.
Baidu converts your PC into a WiFi Hotspot and you can connect various devices like Tablets, Smartphones, etc. to it. Baidu offers a faster and secure connection. You will come across a number of security options. There is hardly a drop of connection.
Besides the service of Hotspot, Baidu also lets users share and receive files from the devices that are connected over the WiFi Hotspot. The interface is simple with a light green color that soothes the eye. This Connectify alternative is compatible with Windows Vista, XP, 7, 8, 8.1 and 10.
4. Thinix WiFi Hotspot Creator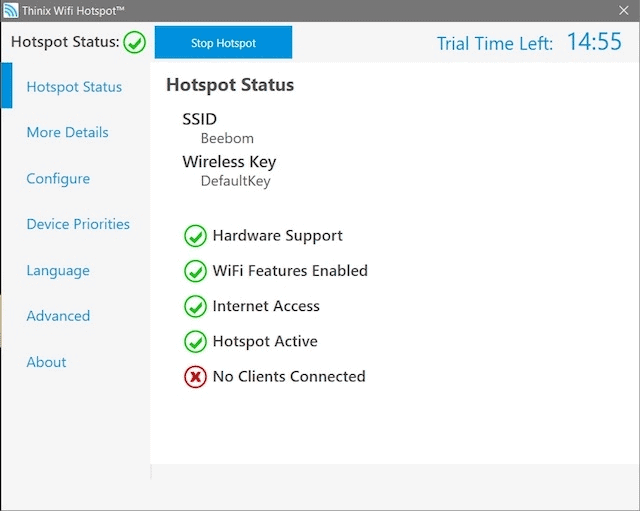 The next one on the list of best Connectify alternatives is the Thinix WiFi Hotspot Creator. The best part about Thinix is that it is available in both free trial and premium version. It is obvious that when you are paying a certain amount, you will receive a much larger arena of features than any of the free Virtual Router Software.
However, for your assurance, you can try the One-week period free trial and then decide for yourself. In our opinion, Thinix would be great if you are looking for a more secure and fast and advanced WiFi Hotspot Creator.
5. Maryfi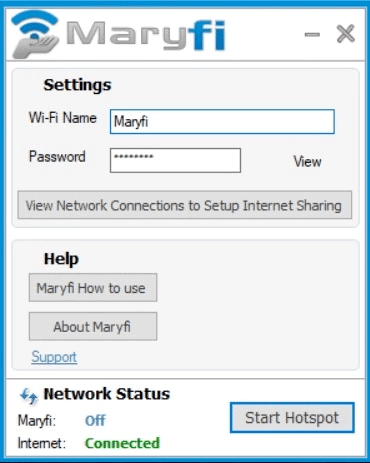 A Free Hotspot and an alternative to Connectify would be the Maryfi. The interface of Maryfi is somewhat similar to the Windows interface. Basically, it is simple and easy to navigate. Maryfi lets you share the WiFi connection that your PC is linked to.
This virtual router software enables you to create a hotspot and share your internet connection to other devices including Smartphones, tablets and other PCs. Maryfi is supportive of all the Windows versions but specifically the Windows 7.
6. WinHotPots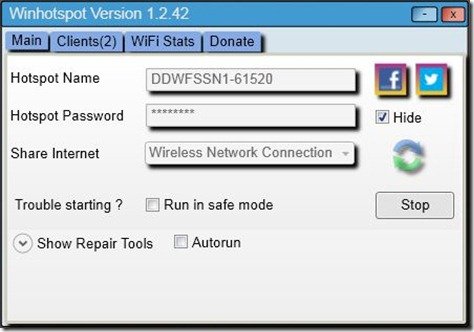 WinHotPots lets users not only turn their PC into WiFi Hotspot but also allows to track their data usage. This track will let you see the P and MAC addresses separately. It is also possible to share files over this Hotspot software. That's all you could expect from a free Virtual Router Software.
7. Seventh Gate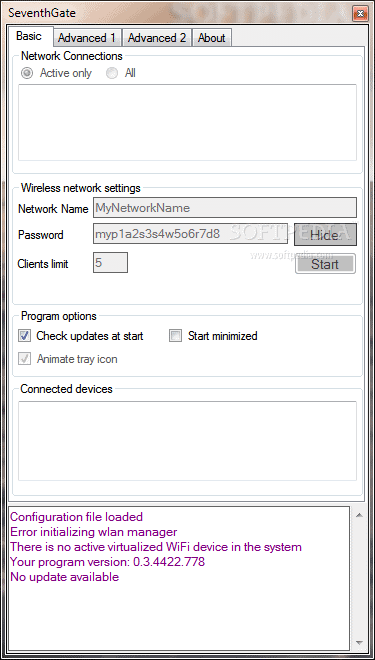 The seventh alternative to Connectify is Seventh Gate. This free and amazing virtual router software is a Microsoft Public License and is available for use over Windows 7, 8, Vista, XP, and Windows 10. The interface is quite decent and easy to use.
8. Lion Scripts with Hotspot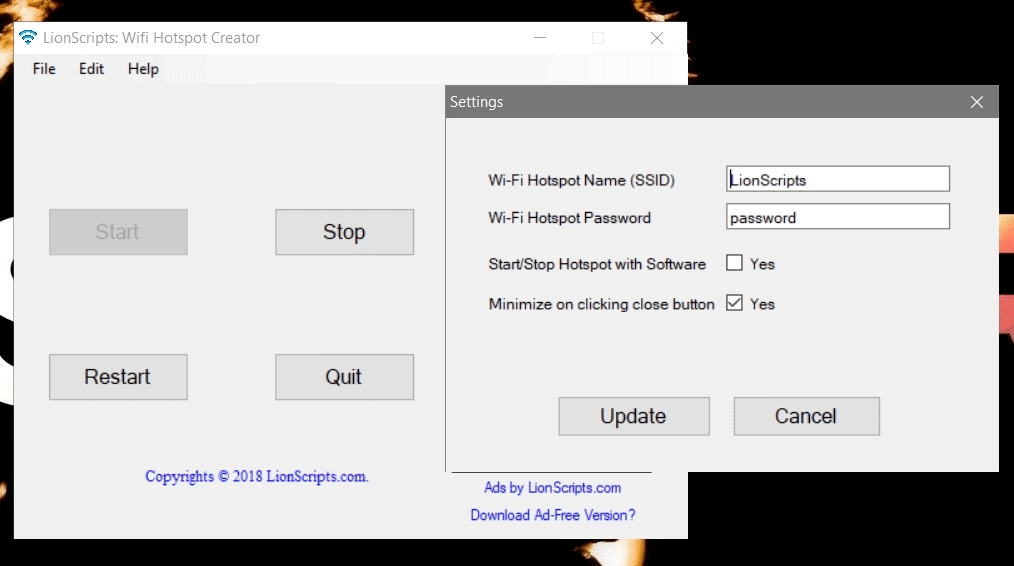 Another one of the free Connectify alternatives is the Lion Scripts with Hotpot. Yeah, a weird name again. But we cannot ignore the amazing feature this hotspot software offers. Lion Scripts offers two versions for its users – Premium and free.
The free one comes with ads (obviously) and the paid one is without any commercials. The interface is simple for both of these. The software is compatible with all the Windows versions from XP, Vista to Windows 10.
9. Maxidix Hotspot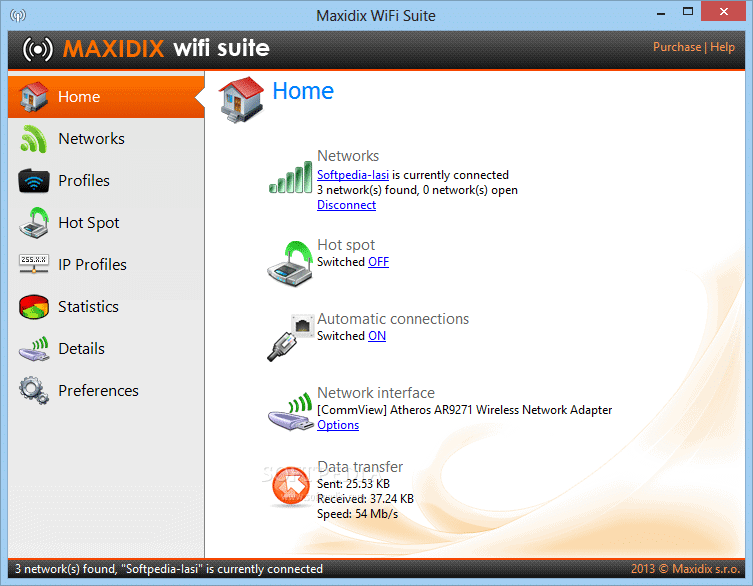 Yet another Best Hotspot app that can be considered an alternative to Connectify is Maxidix Hotspot. Although premium, it offers features worth every penny. Certainly, this virtual router software provides more facilities than any of the above Connectify alternatives.
At an affordable rate of $20 for a lifetime, you get a number of amazing features of Maxidix. If you are looking for the most secure or professional Virtual Router software, this one is your best option.
10. My Public WiFi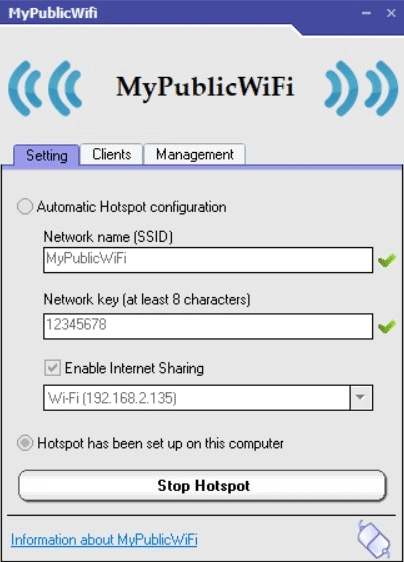 My Public WiFi acts as a maker of the virtual router to your PC. This app which is comparatively older has a simple user interface and offers some great features. This app gives you the advantage of blocking particular users. This is very helpful when someone tries to consume more data than expected.
Again, My Public WiFi supports Windows 7, 8 and 10 versions. One of the most peculiar features of this app is the URL logging feature through which one can keep a record of the sites visited from devices connected to your PC. File Sharing is also offered by this app.
Concluding Words
As you might have understood by now, most of the above virtual router software work similarly. There's just a difference of a few features and in case of premium apps, a bit larger difference. If you know what you are looking for, I am sure you might have found the perfect router software by now.
Do let us know your experience with the router you choose and also suggest other names that we might have forgot to mention!
Happy Connecting:-)